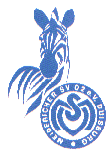 MSV Duisburg in the 1997 Intertoto Cup were in the running for the UEFA cup until the final, but were finally beaten by Auxere. Their team is as follows:
Goalkeepers:Kramer, Carsten Cristof ; Menger, Andreas ; Stauce, Gintaras
Defence:Drsek, Pavel ; Hajto, Tomasz ; Hoersen, Thomas; Kovacevic, Marijan ;Neun, Jorg ; Schneider, Martin ; Schramm, Thorsten ; Schyrba, Peter ; Wohlert, Torsten
Midfield:Emmerling, Stefan ; El Hamrouni, Yasser ; Hirsch, Dietmar ; Keidal, Ralf ; Osthoff, Markus ; Steffen, Horst ; Torres, Reiner; Vana, Thomas; Voss, Andreas; Wedau, Marcus; Wolters, Carsten; Zeyer, Michael
Forwards:Andersen, Erik Bo ; Beierle, Markus; Bugera, Alexander; Guvenisik, Sercan; Spies, Uwe


A player of note is Erik Bo Andersen who is formerly of Glasgow Rangers. Duisburg came Eighth in the Bundesliga and their nickname is the Zebras. The capacity of their stadium Wedau-Stadium is a mere 30,112 as opposed to The Showgrounds 8,000 ? -ish. Their stadium was built in 1926 and was last renovated in 1989. Their team colours are blue and white stripes (sound familiar?), blue shorts and blue socks - Although they'll be in their away strip on Saturday of red-black, black shorts and red socks. The Duisburg team manager is Freidhelm Funkel who has been managing the team from 1996.

Newry Town managed to keep the scoreline to a respectable 2-0 defeat in the away leg in Duisburg. Newry survived to half time at 0-0 but Uwe Spies scored after 49 minutes and although Kevin McKeown deflected a powerful shot to the post Uwe Spies headed home. Although Duisburg scored another goal it was ruled as off-side.

They made amends after 74 minutes an excellent shot by Stefan Emmerling was saved by McKeown but did not catch it squarely and the deflection was put home by Markus Beierle.By the full-time whistle Newry had had 4 attempts on goal and Duisburg had 13. After the game at the press conference the German coach Funkel commented to Steven McCullagh The Showground Press Officer 'I am dissappointed that there were not as many goals, we should have had at least one more but we are happy !'. Trevor Anderson retorted saying 'It wasn't a pretty game' and when asked how his team may fare next week he repilied 'expect the same again' - an obvious reference to the fate of the Croatians.
In the return leg at the Showgrounds Duisburg looked less than impressive. The Newry pitch was compact ans suited Newry's tactics. Mark Rutherford scored for Newry but the Town couldn't manage another giant-slaying. They had beaten a multi-million pound outfit but overall failed to progress any further in the competition.....until next year!