Match Reports will be featured here as they arrive with the most recent additions first. I was thinking of renaming this page 'Jimmy's Match Reports' since Jimmy gives up so much of his time to voluntarily write these excellent reports for the benefit of fans worldwide , but now Sean is putting in so much work too I have to keep it as Supporters Match Reports - But thanks bhouys !
Date: 23 Feb 2002
Glenavon 0 – Newry Town 1
Irish League Premier Division
Report by Sean, Newry
On a cold and extremely windy day in Lurgan it was the Newry team rather than the weather that gave Glenavon the "blues". This was a competent team performance from a Newry eleven and, but for some poor finishing, Newry would have won much more comprehensively. As early as the seventh minute David Ward was faced with only the Glenavon goalkeeper to beat but tamely shot at the keeper instead of drilling the ball into the net. If David was a clinical finisher, his goal tally would be much bigger – though young Conor Larkin, playing for Glenavon – had a very impressive game and restricted Ward to this one opportunity in the first half. Newry dominated the first half and were unlucky when a well placed header struck Rice the Glenavon keeper on the head – it could just as easily have entered the net. On loan defender Shevlin from Bohemians was having a Trojan game alongside Gavin Dykes, while Lee Anderson was as solid as the proverbial rock at right back and Glenn Downey was having his best game in a Newry town shirt. Davy O'Hare didn't have a lot to contend with but he was competent and decisive when called into action The main cause of consternation in the first half was referee Adrian McCourt who made some inexplicable decisions and certainly angered and bemused the small contingent of Newry supporters on the away side. He "yellow carded" four Newry players for totally innocuous tackles and repeatedly penalised Newry with some unbelievably poor decisions.
Just after the interval Raymond Byrne, having a very solid game until then, was substituted - being replaced by Jonny Topley who cannot be faulted for his lack of effort when he came on.. The second half was again dominated by the Newry team and it was no surprise when Gareth Fulton scored after Rice had made a good save from from David Irwin. Barry Meehan battled bravely up front along with on loan forward Webb from Bohemians. David Ward missed another relatively easy chance in the closing stages and Glenavon could have stolen a point in the final minute but for a brilliant interception by Downey. In conclusion this was a solid performance from a Newry team which will confidently face Linfield in their next match. Best wishes to Alfie Wylie who missed the match due to a bout of flu – apparently he was in touch with Alex Denver by mobile phone. Perhaps this is the secret formula for success that Newry have been looking for all season!
Goals: Fulton
Newry Team: O'Hare 7, Anderson 7, Downey 7, Shevlin 8, Dykes 8, Byrne 6, Irwin 7, Fulton 8, Ward 6, Meehan 7, Webb 6. Subs: Topley 7, Arthur 6.
Date: 15 Feb 2002
Omagh 0 Newry 1
Irish League
Report by Jimmy, Newry
I quite like going to St Julians Road. OK so it's a lengthy trip but it's easy to get at, safe enough to park and the locals give you a very friendly welcome unlike some other grounds I could mention. The fact that Newry have won 4 and drawn one of their last six visits might be a factor too! In some ways Omagh are quite like Newry in that they're trying to make the breakthrough against the better supported and higher profile Belfast clubs. Both clubs are tight for money and have to make do with limited resources. Indeed when Omagh visited the Showgrounds in October their travelling support didn't do much to boost our coffers. I counted six. Well, we doubled that tonight, I'm sure their treasurer was delighted! I suppose a Friday night trip to Omagh didn't have much appeal for many but we do normally bring more than that. It was a pity for the loyal locals who normally travel and witness many a poor performance that they missed this as the Town fought out a well deserved win. Newry lined out with three new players, two of whom were unknown to me. At the back Shevlin had a steady game alongside Dykes and on the left Mark Webb did well. He worked hard for the full 90 minutes and showed a good commitment to the cause. Up front was local man Barry Meehan and he grabbed the headlines by heading the winning goal on 66 minutes. Newry had started brightly and had the locals on the back foot. After 12 minutes Lee Anderson hit the cross bar from close range and as further chances were missed we wondered whether or not these would prove crucial. Gradually Omagh came into the game and despite Newry continuing to have more of the ball the home side produced three good strikes at goal. Each one in return was met with a superb Davy O'Hare save. O'Hare gets plenty of criticism when he makes mistakes but he also makes some wonderful saves for us and its a pity a few more of his critics weren't present to witness his man of the match performance. The half ended scoreless but Newry started the 2nd period brightly. Pressure eventually told when Wards cross was headed home by Meehan. Omagh came looking for an equaliser and someone (Webb I think) headed off the line when O'Hare was finally beaten. Newry, however, were dangerous on the break and Ward had one fantastic effort wide and then missed again from a much simpler opportunity. Shevlin too brought a great save out of the Omagh keeper Cullen with a header from a corner. Ten minutes from time Friel broke through for Omagh but O'Hare narrowed the angle and he shot wide. And so Newry held on for the win to move up to 6th in the table. In the process they became the first side to win at Omagh this season. Given that Omagh have beaten Linfield, Glentoran and Portadown here that was no mean feat.
Goal: Meehan

Date: 2 Feb 2002
Newry 1 Coleraine 4
Irish League
Report by Jimmy, Newry
Anyone who goes to watch the Town will know them. They're the people you meet after the match who want to know how Newry did. Always interested in the score, how the game was. Of course they'd never even think of going along to see their local team. Why would they when they can watch English football in the pub and anyway, Newry are crap. Who wants to be associated with a team that doesn't win every week apart from a couple of hundred mugs like ourselves. Of course some of them did used to go. It was ok when we were doing well in the InterToto Cup but they 'kind of lost interest somewhere along the line'. Oh yeah, why was that then? '4-1, they snigger, Newry are crap.' Try explaining that the score in no way reflects the entertaining game of football you've been to see and then see the look you get. Well I have to say that the scoreline was a joke. A bit like some of Newry's defending in fact. We've all seen appalling displays by the Town but I have to say that this wasn't one of them. When we lost by the same score to Glenavon last Christmas the scoreline didn't reflect the play: no, at one point I thought Glenavon might get into double figures. This, however, was something different. In the first half Newry dominated an unusually open game and created more clearcut chances than they usually carve out in 2 full games. And they did so by playing some lovely football. And yet they found themselves 3-0 down. Where they unlucky? No, it's not bad luck to miss 4 gilt-edged, and I mean gilt edged, chances; it's terrible finishing. First Ward did brilliantly to get through but shot straight at the keeper and then Evans was clean through but, unbelievably, elected to pass and the danger was cleared. Coleraine weren't in the game and yet from their first foray into the Newry half a free kick was headed into his own net by Cowan. Coleraine then went 2 up when Armstrong scored despite looking to be offside when he received the ball. Still Newry were doing well, at least going forward. Ward broke through and was completely clear of all defenders. The Coleraine keeper committed but Ward somehow managed to fire wide. An unbelievable miss. Arthur then headed over when unmarked in front of goal and a handball appeal was turned down inside the Coleraine box. Oh and then a speculative ball into the Newry box was finished by McCoosh as the defence stood and watched. Before half time Graeme Arthur fired home from a Fulton cross but as Newry pressed the half time whistle came in time for the visitors. Newry started the 2nd half brightly as Coleraine closed down the game and adopted a 'what we have we hold' attitude. With so many Coleraine men behind the ball Newry couldn't open them up as in the 1st half but they battled hard and created pressure and chances. Arthur and O'Connor both went close but gradually the game petered out. Dykes was pushed forward and as Newry were exposed at the back Coleraine broke forward in the last few minutes. First O'Hare saved but then conceded a penalty. He got up to save it but Beatty knocked home the rebound as the Newry defenders watched. Surely he could of expected better protection than that? And so it finished 4-1 to the visitors and I for one left the ground scratching my head. What was most frustrating was that Newry played so well to create their chances but blew them and Coleraine didn't even have to work for their 3 first half goals. Often you see the Town defence under concerted pressure and generally they do well but this was incredible. Perhaps it was the fact that they were seeing so little of the ball at the back that they forgot they were meant to defend. I read in the press Coleraine's Beatty bemoaning how people wrote them off for the title after they lost 7-1 to Linfield. On the day, he claimed, Linfield had taken every one of their chances whereas Coleraine had missed theirs. I imagine the irony would be lost on him but I think I know how he feels.
Goal:
Arthur

Date: 15 Dec 2001
Newry 1 Glenavon 1
Irish League
Report by Jimmy, Newry
I didn't get to a computer to write this report until one week after the match. Probably for the best. I wasn't in the best of moods after this. Oh, I was all set to tell you, my beloved readers, that one of the reasons people have lost interest in Irish League football is the appalling state of refereeing. And it is, along with poor facilities, the atmosphere at some grounds, the standard of play. Well, our new stnad is great, the atmosphere was muted but pretty supportive for the Town, and the standard wasn't great to be honest. So back to the referee. Well, the Town had battled well to lead Glenavon with the clock ticking towards the end of the match. Glenavon had plenty of the ball but as one of their supporters admitted to me, were never going to score. Step forward Leslie Irvine with, even by Irish League standards, one of the worst decisions I've seen in a long time. A great tackle by Seamus Kane cleared the ball, and the Glenavon forward threw himself to the ground after the ball had gone. Penalty! It wasn't even as if Irvine was that far away from play as is the case with most of our pudgy referees. Seeing the "challenge" three times on TV, it didn't get any better...the decision that is, not the challenge. But there you go, these things even themselves out over a season. Do they? If you follow the Town regularly you'll laugh at that particular suggestion. I could on but I'd only annoy myself. On the night, the team battled hard and Lee Anderson was outstanding and a clear man of the match. Davy O'Hare too ensured that some sense of order was restored with a magnificent save as Glenavon almost stole it late on. Now if that had happened....
Goal:
Irwin

Date: 8 Dec 2001
Newry 2 Crusaders 2
Irish League
Report by Jimmy, Newry
So this is why they have that cliche about a game of two halves. If you'd asked me (and probably most others) at half-time on Saturday why we turn up to watch the Town I'd have had to think about it. I'm a masochist, I like embarrassing situations, I really should get another past-time? Forty five minutes later I had a different answer. The first half performance by Newry was that bad. You can take your pick of adjectives; shambolic, awful, and yes, embarrassing. A limited Crusaders side were all over Newry and even Peter Gilgunn (yes him) was looking the part for them. Newry never started and were lucky to be nil. Campbell and Magill had the Crues 2 up and they hadn't had to be anything special to do it. If there was a Newry effort on goal I missed it. It can't be easy for the Newry team with players leaving and apparently all but O'Hare and Casey up for sale. So much for a settled side? Still, the very least we expect is a bit of heart and fight and it was sorely missing in this half. The home support were moaning even more than usual and you couldn't see any way out of it, we were going to be humiliated by the bottom team in the league. And then when things couldn't get any worse the team redeemed themselves with a tremendous fightback in the 2nd half. Changes were made and John Martin certainly gave the Town more width and attacking threat. Suddenly they were transformed and Crusaders were on the back foot. It was all about fight and effort as Newry pressed to get into the game. In truth we know our limitatons and it wasn't always pretty but now we were getting stuck in and the result was obvious. Good pressure finally resulted in a first Newry goal after the move of the match. Irwin found Martin with a fine pass, he sped past Gilgunn and his cross was superbly volleyed home by Paul Evans. Game on. Newry pressed and but for one effort the Crues were on the defensive. Evans, Topley and Gardner (one of three more new players on the day) all went close. And still it seemed that the equaliser wouldn't come. Despite their efforts Dykes header being saved in the last few minutes seemed to confirm that Newry had given themselves just too much to do. And then in injury time a Newry corner was headed home by Lee Anderson to the delight of the home support. Anderson again had done the business as in the last game with Cliftonville. The goal was a sickening blow for the Crues but we've been there ourselves, against them, in recent years. They would have been obviously disappointed but it hardly excused the actions of their veteran (i.e. past it) centre back on the final whistle. And so Newry had got out of jail with their 2nd half performance. Play with as much application for 90 minutes in the upcoming home games against Glenavon and Ards and 6 points are there for the taking. Lapse into the awful mode of Saturday's first half and we'll get nothing. I suppose we just don't know what to expect but as ever I'm an optimist. Which is probably why I keep going along. Oh and dramatic last minute equalisers help too!
Goals:
Lee Anderson

Date: 24 Nov 2001
Newry 1 Cliftonville 0
Irish League
Report by Jimmy, Newry

Newry gained a valuable win against Cliftonville in this rearranged Friday night fixture at the Showgrounds. The match was moved in the hope of attracting an improved attendance but unfortunately it was played out in front of a very disappointing turnout. Given our current position in the table Cliftonville at home was certainly a game that we would of hoped to do well in. Over recent years the Town have a fantastic record at home against the Reds and this was extended in this latest encounter. The match started slowly and the first half was a pretty drab affair. Mark Dickson hit the bar for the Town and also had a 'goal' ruled out by referee Alan Snoddy. At the other end Davy O'Hare made a couple of decent saves and the Town defended pretty well. The 2nd half again started slowly until Lee Anderson scored what was ultimately the winner after 54 minutes. The goal game from a corner from Topley which Anderson headed in. After that the Reds upped the tempo and pressed for an equaliser. Newry defended well with Dykes again outstanding and when they did get through O'Hare pulled off a fantastic save. And so Newry held out for a morale boosting win with their first clean sheet of the season. This was far from the Town's best performance of the season and our limitations were pretty clear. Still, those on the pitch worked hard and 3 points is definitely preferable to a gallant effort in defeat.
Date: 10 Nov 2001
Newry 0 Glentoran 1
Irish League
Report by Jimmy, Newry
Pictures courtesy & copyright of David Kennedy www.cocknhens.net
The league leaders came to the Showgrounds on a high. With six consecutive wins under their belt, mainly by 3 and 4 goal margins, they would surely have expected an easy enough ride against a Newry team that was struggling at the wrong end of the table.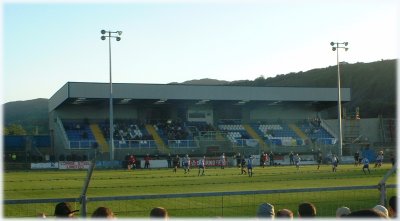 Add to this the fact that 'cash-strapped' Newry (TM any report mentioning the Town these days), already down to the bare bones having offloaded 3 first team players, lost both captain and key player Robbie Casey and John Martin through injury. The first 20 minutes seemed to confirm our worst fears as it was all Glentoran. Still, apart from one O'Hare save the Glens didn't create much. Perhaps buoyed by this the Town gradually came into the game. They created the best chance of the half when Dickson and Irwin combined to leave Topley clear on goal. Gough responded with a magnificent save. Then Dickson worked a piece of magic to beat 2 defenders only to be denied by a last ditch block. Newry were on top but late pressure from the Glens made it clear that this enjoyable game could still go either way. The 2nd half was even better than the first with play switching from one end to the other. To their credit Glentoran threw men forward looking for the win but Newry likewise sensed that 3 points were there for the taking. Topley and sub David Martin shot wide for the Town while Davy O'Hare made three superb saves at the other end. It seemed he couldn't be beaten on the day. As the game neared its close Newry had seven men forward looking for the winner from a well placed free kick.
Young David Martin tried to work the ball into the box aware, one assumes, that a high lofted kick would be easy meat for the bigger Glentoran defence. Bad call as it turned out. He was dispossesed and the Glens broke with the previously anonymous Haylock scoring. This ability to take his chance is clearly why they pay him so much money. It was sickening for the Town to lose in this way although full marks to the Glens for taking their chance. What was more frustrating was the manner of the goal. Not only did it come from a Town attack but Martin was clearly fouled in the build up to the goal. Not something you'll read in the national press (do they go to the games?) but clear enough to enrage the home support. That the cross for the winner was provided by Lockhart who shouldn't of been on the pitch after a series of fouls was the final irony. Those of you who go to the games then won't be surprised to hear that the highly competent official in charge of proceedings was Mr Frankie Hiles. I probably don't need to say more but just in case, even the away supporters were enraged by some of his decisions in the first half. His constant whistling for 'foul throws' was funny, yet another crucial decision going to the "big club" less so. Despite this gripe the game was an open and enjoyable spectacle. After fading so badly last week this was a much improved display by the Town. I doubt that anyone connected to the club reads this but if they do the effort put in by the players was well noted. If they continue to play with as much application and effort then the results will surely have to come. On the day it's hard to believe that O'Hare, Dykes, Anderson and Fulton were on the losing side while Dickson looked lively up front. The others all played their part in an encouraging performance from the Town.


Date: 3 Nov 2001
Newry 1 Omagh 1
Irish League
Report by Jimmy, Newry
Omagh's visit to the Showgrounds produced yet another draw for Newry on Saturday, their seventh in 13 league games. Indeed the Town have lost less games than all but the top two in the league. Unfortunately only Crusaders have won less games which is why Newry are at the wrong end of the table. The game opened brightly and Newry peppered the visitors goal throughout the opening half hour. Despite the pressure they only had Andrew Morrow's goal to show for their efforts. Omagh belatedly came into the game and after one near miss when Davy O'Hare tried to dribble around the whole Omagh team and was almost caught out the keeper redeemed himself with a fine save as an Omagh forward bore down on goal. Still, we were happy enough with a deserved 1-0 half time score. The 2nd half was a different matter with Omagh bossing possession. A one goal lead was never likely to be enough as the Town have yet to keep a clean sheet this season. Despite their pressure Omagh struggled to create clear openings as Dykes marshalled his defence well. More worringly Newry passed up a host of chances to get the all important 2nd goal as they found gaps in the Omagh defence on the break. Morrow, Irwin and Topley all should of done better and we would live to regret the misses. And so twelve minutes from time Omagh equalised with a scrappy goal. It almost got worse as from that point the visitors sensed victory. First O'Hare saved well and then an Omagh forward fluffed a great chance in front of the goals. Still Newry could of won it as Robbie Casey burst through; but his touch let him down and the Omagh keeper blocked. It finished in a fair enough draw and, forgive the cliche, the game could of gone either way. Newry battled hard but lacked the belief to see out the game. Perhaps not surprising when you think of all the personnel that have had to leave in the last couple of years. Indeed our difficulties were personified in the position of Robert Casey. Casey has doen magnificently in his new forward role and is the league's top scorer at present. Much of Newry's play involved long balls aimed in his direction. And yet as the Newry midfield disappeared in the 2nd half the captain's absence from his prefered role in the middle of the park was all too evident. For the time being it appears that we'll just have to make do with the limited resources available.

Date: 30 Oct 2001
Linfield 3 Newry 1
CIS Cup Quarter FInal
Report by Sean, Newry
On a bitterly cold evening in Windsor Park, Newry produced a brave performance - only to see their valiant efforts 'spiked" by an incompetent display of referring by Herbie Barr and a two goal strike from Glen Ferguson. 
In a rather uneventful first half both teams cancelled out each other and shots on goal were indeed a rare commodity.  Davy O'Hare dealt very competently with any danger which Linfield threatened, while Lee Anderson and Gavin Dykes successfully tamed the Linfield attack. 
The second half was only three minutes old when a lapse of concentration in the Newry defence let in Mark Picking for a rather soft goal. Almost immediately  Robbie Casey had to be replaced, after sustaining a thigh injury.  Things were looking bleak for Newry at this juncture and the Linfield fans were expecting the floodgates to open.  But this Newry team, managed by workaholic Wylie is now made of much sterner stuff and following some neat interplay involving John Martin and Andy Morrow, the ball fell invitingly to Johny Topley who volleyed it from twenty yards  into  the top left hand corner of the Linfield net.  The small band of faithful Newry supporters went wild, sensing that another Newry unlikely victory could be on the cards.  Referee Barr then inexplicably allowed a Ferguson goal to stand when everyone else in the ground had seen quite clearly that he was at least two yards offside. Newry players protested in vain and the supporters in the away stand - including this reporter - were totally incredulous. It is difficult enough to get a result against Linfield in Windsor at any  time but we expect the referee to try and give a competent and unbiassed performance.  After this, the Newry heads went down and Ferguson added his second and Linfield's third with a well placed lob over Davy O'Hare. To add insult to injury Gareth Fulton was very lucky to recover from a vicious tackle from Winkie Murphy who should have been red carded by Mr.Barr.  Newry, disheartened but unbroken, tried valiantly until the final whistle but the harsh  reality is that Linfield progress to the semifinal and Newry are out. Lee Anderson was my man of the match, while Casey and John Martin were the  pick of the forwards.

Date: 9 Oct 2001
Newry 0 Man Utd Select 5
Friendly
Report by Jimmy, Newry
Newry marked the opening of the new stand at the Showgrounds with this friendly against a Manchester United reserve eleven who were managed by Brian McClair. The match attracted a sizeable crowd although smaller than perhaps expected. Quite a few had obviously come to see the young Utd players but with so many of these friendlies being played over recent years and the fact that it's so easy to go and see the 'real thing' at Old Trafford it's clear that this was never going to come close to selling out.
Hopefully we made a few quid out of the evening anyway to go towards the cost of the stand. And full marks to whoever designed what is an excellent stand that will greatly improve the experience of coming to the Showgrounds. I took up residence in the middle of the stand and had a great view as the Town went down heavily to a young but very impressive United team. Perhaps the biggest name on view was the Swede Jesper Blomqvist who captained Utd and scored two on the night. The other scorers were Jimmy Davis, Ronnie Wallwork and Daniel Nardiello. Utd played some lovely stuff and could of scored more. Unlike most friendlies involving first team XIs this one never lagged as the Utd team kept coming forward, keen to impress their manager. Newry had their moments, Topley and Dickson in particular guilty of bad misses when in on goal. It would of been nice for Newry to get on the scoresheet but it wasn't to be. The gulf in class was evident although it must be said that a number of home players failed to do themselves justice. Nonetheless the result wasn't that important, particularly for those of us with a soft spot fot the team in red. Perhaps Alfie can persuade McClair to loan a few of his young stars to us for the rest of the seaon. Now that would be nice.
Goals: Nardiello, Davis, Wallwork and Blomqvist
(2).

Date: 28 Sept 2001
Newry 3 Coleraine 1
Irish League
Report by Jimmy, Newry
Newry finally got their first league win of the season courtesy of a battling display against highly touted Coleraine. The game was moved to a Friday night which resulted in a bigger home crowd (although still room for improvement there) and the new stand (although not yet in use) looked great under the floodlights. Coleraine boss Marty Quinn had told us through the press that his team were playing well without getting the results they deserved. They were due a win and he expected it to come against Newry. But the home side had put in some fair performances too without gaining an elusive win and it was they who would break their run on the night. The first half was pretty even with both sides having chances although defences were generally on top. Then just before the break new signing Anthony did well and crossed for Casey to head back across goal where Andrew Morrow raced in to finish to the net. Could Newry build upon this lead in the 2nd half as they'd failed to in their two previous matches? It looked like they could when John Martin seized on a defensive error early in the 2nd half to put the Town 2 up. The home support were ecstatic but we should know that we rarely do things the easy way. Within a minute a free header for Gaston from a corner put Coleraine right back in it and they visibly grew in confidence. Still 35 minutes to go: here we go again? Newry, however, defended pretty well as the game progressed although getting a little deep at times. Dykes and Anderson might not be pretty but they are effective and they provided a tough barrier for the away side to break down. The closest Coleraine came was when Tolan hit the post with O'Hare beaten. The Newry keeper made some decent saves too and as the game wore on we began to believe that the victory might be secured. Newry were creating some chances themselves on the break without taking them but were being willed home by an appreciative home support. Then with 4 minutes to go sub Irwin headed home from a Lyttle cross and the three points were secure. A fine win was secured by a Newry side that battled hard and got what they deserved. They've played better and lost but workrate alone warranted the points. The team left the field to rapturous applause from the supporters who surely hoped that this fine night could be built upon. Great stuff.
Goals: Morrow, Martin, Irwin

Date: 1 Sept 2001
Newry 0 Ards 1
Irish League
Report by Jimmy, Newry
Newry's poor run of results continued against an Ards team with strong Newry connections. Our former chairman, director of football (whatever that is) and a host of former players returned to the Showgrounds and stole a narrow victory. As in the previous home game with Glenavon, Newry handed the initiative to the visitors by crawling out of the blocks. Another early goal conceded left us chasing the game and unlike the Glenavon game an improved 2nd half performance didn't bring any rewards this time. It's hard to know why we can't actually start a game strongly, particularly at home, and end up chasing games. It suited Ards down to the ground. Indeed in 5 games this season Newry have conceded the first goal every time: result 2 draws and no wins. Ards could have been three up inside ten minutes. Their goal when it came was the result of a long throw that bobbled about and seemed to go into the net off a Town player. Newry hadn't started playing and yet could have been level when Ards keeper Inglis fluffed a clearance. Dickson hesitated when faced with an open goal and an Ards defender blocked. As the game settled down Ards limitations were obvious. They had their lead and they would sit on it while outmuscling this small Town team around the middle of the park. Unfortunatley our limitations were clear too! Confidence shaken we tried to pass it around but more often that not hit long balls which were gobbled up the Ards defenders. Losing our two main attacking weapons to injury, Evans and Martin, made the task of getting back into the game even more difficult. Newry improved in the 2nd half. Sub Robert Casey, while not match fit, at least gave a physical presence up front. Still chances went begging and the game got stretched. Ards employed a clever form of gamesmanship to break up any Newry momentum with a series of "injuries" killing the game. Former Newry man McLean certainly was hurt and had to leave the felt but the less said about the others the better. Ards could have sealed the game on the break near the end as Newry committed forward and were left exposed at the back. One ball through was enough to open us up at this stage. Are we Germany in disguise? Newry had to work harder for openings against a packed Ards defence but they did come. Amazingly we passed up three absolute sitters in the last few moments. How Gerard Lyttle managed to slide his shot wide is a mystery. Casey and Dickson then contrived to miss when a goal looked certain. And so it ended in a most disappointing 1-0 defeat. Ards were just that little bit cuter and won a poor game. A poor game watched by a pitiful crowd. Apparently it was Ards decision not to allow the game to be moved to the Friday night. Whatever the reason for this it was never going to be able to compete with Ireland v Holland on the tv. And to be honest, how would you try telling those who chose the tv option that they missed something here? As he left the field Trevor Anderson made his joy known to the Newry fans and gestured to the few home fans who remained. Very sad indeed. It's probably unfortunate that players and officials leave the field where they do as it seems to attract unnecessary incidents that do us no favours at all. In this case, however, Anderson should really know better. Worse still was the reaction of referee Frankie Hiles. He was in no way responsible for Newry's defeat and why someone felt the need to comment to him is not clear. However, for Hiles to react is unbelievable. This man is supposed to be the referee. It was probably an appropriate end to the afternoon's proceedings.

Date: 11 August 2001
Linfield 1 Newry 1
Irish League
Report by Jimmy, Newry
Another season kicked off with Newry's opener a difficult away game at Windsor against last seasons champions. Most outsiders would have had this one down as a home win but it didn't turn out that way. After taking my seat in the fine Windsor stand, the first thing to do was to look around the pitch and check out who was playing for the Town. As has been for the case for a number of seasons this teamsheet showed wholesale changes from last seasons outfit. Gone are practically all the southern based players and a number of promising young players have been added to the ranks. The match itself took a while to get into gear and with Dykes and Byrne looking solid at the back there were few real scares for the Town. Linfield did have the better of the first half but the closest they came was when a speculative shot come cross hit Davy O'Hare's post and when Dykes blocked Larmour's goalbound effort. A half time score of 0-0 left the Newry camp reasonably happy. The second half began in disastrous fashion for Newry as the ever dangerous Picking fired home to spark delight among the Blue ranks. Newry however steadied themselves and began to impose themselves on the game. Substitute Irwin robbed Murphy on the edge of the box but shot wide. Newry's big chance of an equaliser had gone, or so we thought. In fact the Town were playing well and passing the ball quite well. Naturally then the goal when it did come was the result of a long ball into the Linfield box! Murphy and co. had mopped up anything in the air all afternoon against the small Newry forwards but this time a Newry man got a nod on and John Martin spectaculalry crashed the ball to the net. Cue joy in the Newry stand. There were still 15 minutes left and we waited for the Linfield onslaught. Instead it was Newry who continued to press against an increasingly nervous home rearguard. Sub Topley brought two good saves out of Robinson and from the rebound of one of these Dickson almost stole a winner. Then with minutes on the clock the Blues broke away and Larmour was clean through. He slipped it past O'Hare as just as the home ranks prepared to celebrate a dramatic winner the cheers were cut short as the ball rebounded off a post. It therefore ended 1-1 in a game Newry could of won but just as easily could of lost. It was more importantly a good display by the Town team. Good performances are built on skill, hard work and, importantly, confidence and this result should certainly help in the latter department. Of course we've been here before and things can quickly go pear shaped but this was a good base on which to build. The Town defence was well marshalled by Byrne and Dykes who look a promising partnership; the midfield and forwards worked hard and the returning Paul Evans in particular had a good game. After the dreadful performances at the end of last season this was much more like it from Alfie's team.

Date: 11 August 2001
Linfield 1 Newry 1
Irish League
Report by Sean, Newry
Although there were only four survivors in the team that beat Linfield 3-1 last season at Windsor
Park, Newry still produced an excellent performance at Windsor Park and earned a very creditable
draw. In a rather dull first half in which very few chances were created, Linfield threw everything at
Newry but the central defence wasn't letting anything past them. With Dykes marshalling the defence
as usual and Raymond Byrne having a solid match, they proved too much for Spike and Co.  The
highlight of the first half was a magnificent goalmouth clearance from 'never say die' Dykes when a
Davy Larmour shot seemed destined for the Newry net.
Two minutes after the restart Linfield's new signing, Mark Picking, got off the mark for the new
season with a low shot from 20 yards out, which proved too much for Davy O'Hare. This
paradoxically started Newry's revival.  Alfie Wylie made some influential substitutions, which
resulted in turning the game around. Newry started to look bright and when new signing John Martin
took advantage of some slack Linfield defending he shot he ball low into the corner of the net which
left the homeside in disbelief. Newry had chances to finish the game off but so did Linfield. Newry
were denied by Linfield keeper Mathers and  two minutes from the end Davy Larmour made an
incisive run and struck the Newry post and rebounded to a Newry defender.  There were many
promising performances by the Newry players, Paul Evans was the pick of the forwards, John
Martin was influential in midfield while Gavin Dykes and Raymond Byrne were colossal in defence.
 Well done to the travelling Newry support who made it down to the game and cheered the Town
on. Lets hope we can get a big crowd for the home match with Glenavon and cheer the town on to
victory!

Date: 25 April 2001
Newry 0 Linfield 0
Irish League
Report by seanbon90@hotmail.com, Newry

                  
Lucky Linfield
In a much improved Newry performance, Mark Dickson surely should have scored two goals. Dickson himself will be very disappointed that, despite having only the goalkeeper to beat on two occasions, he failed to hit the target.  However Mark led the forward line with determination and skill, ably assisted by Brendan Markey and they troubled a Linfield defence which boasts the best defensive record in the league. Another boost for Newry in their final league home game was the impressive debut of  local boy Dixiy Craven who, playing a defensive midfield role, gave an assured display of aggression and control.  This is certainly a bonus for Alfie Wylie in his search for new talent.  The first half was evenly contested and the Newry defense had a very solid look about it with the immensely dependable Gavin Dykes controlling and exhorting his fellow defenders to greater efforts.
In the second half  Newry created more chances. Fitzgerald and Morgan teased the Linfield defence and in an entertaining second half one or two of the Linfield players were lucky not to have been dismissed from the field of play.  However Linfield appeared to be a trifle unlucky when the linesman flagged Ferguson off side for what appeared to be a perfectly legitimate goal.  Newry squandered vital chances and Linfield finished the stronger but Doyle and Dykes made some timely interceptions, ably assisted by keeper Davy O'Hare.
Report brought to you by Sean, Newry




Date: 21 April 2001
Newry 0 Ballymena 2
Irish League
Report by Jimmy Newry


It seems the manager of the month curse has hit Alfie Wylie's men as Newry's season has fallen apart badly in April. Since the great win at Windsor Park the Town have managed to score only one goal in the next six games. It's true that the defence has been performing much better but they can't be expected to keep clean sheets in every game and with no goals being scored by the Town defeats were sure to arrive. Newry's displays over the Easter period were very disappointing. First came the home game with Portadown which ended scoreless. Newry dominated much of this match and really should of won comfortably. At times only veteran Ports keeper Mickey Keenan stood between his team and a rout but the finishing from Newry was also very poor as great chances to hit the net were spurned. The Town followed this up with a disappointing loss at Solitude by one goal to nil. Newry finished their Easter programme with a home game with bottom club Ballymena. Mind you, watching this match you wouldn't of believed that they were the bottom team and that Newry were safely placed in mid table. Or maybe you would as a committed Ballymena team in desperate need of points overran a Newry team who appeared to be going through the motions. It really was an awful display by the Town (even worse than the Armagh game in many respects) and they were lucky to get away with a 2 goal defeat. With the midfield completely non-existant Ballymena were able to run through the defence and create numerous chances. Dean Fitzgerald has 2 efforts for the Town in the 2nd half and that was it. The only service to the two small Newry front men were long high balls which were easily dealt with by the visitors defence. The display by Newry was as miserable as the weather and watched by a very small number of Newry supporters. Those of us who stood through it are loyal (or sad) enough to keep coming back for more but this type of football will certainly not see the crowds rushing through the turnstiles. Mind you I sometimes wonder if the apathetic locals would bother to come along if we were playing Real Madrid in the European Cup. That's another story but suffice to say that this Newry display doesn't auger well for next season. I've been quite optimistic about the team Alfie's been building but this match provided a real wake up call. The midfield rarely perform when the injury prone Casey isn't playing and without McPhee up front we're pretty toothless. You don't have to be a genius to work out where we'd be in the table without McPhee's 23 goals this season. The defence has tightened up with the arrival of Dykes and indeed Anderson which at least gives something to build upon. But Alfie will have been left with plenty of food for thought after this shambolic display.

Date: 14 April 2001
Newry 0 Portadown 0
Irish League
Report by seanbon90@hotmail.com, Newry


Keenan defies Newry Portadown keeper Mickey Keenan produced a vintage display of goal keeping in the first half of the Newry and Portadown encounter, and prevented Newry taking the lead. Doyle also came close with a fiercely struck piledriver from thirty yards. In a keenly contested first half, John Joe Maguire sustained a leg injury which resulted in sudstitute Markey coming on, and the referee handed out four yellow cards. Keenan stopped the "Mc Pheeless" Newry Attack from scoring at least three goals in the first half. His first save of note was a brilliant reflex save from a twenty yard Graham Doyle free kick. In a goal mouth scramble midway through the first half, he denied Markey and then Dickson, when it seemed inevitable. The second half was more evenly contested - Lee Anderson coming close with a header and Markey somehow contrived to shoot straight at Mickey Keenan when a more subtle touch would probably have paid more dividends. The last five minutes of the game was dominated by Portadown and Davy O'Hare was fortunate to hold on to a well struck shot in the closing minutes of the game. The Newry defence was solid throughout the game, with 'General' Gavin Dykes marshalling his troops in his usual forceful style. Midfielders Morgan, Fitzgerald, O'Toole and Fulton tried hard throughout the game and Dickson showed some excellent touches - but Newry missed the drive and strength of Casey, and the pace and power of Mc Phee.

Report brought to you by seanbon90@hotmail.com




Date: 3 April 2001
Newry 1 Omagh 0
Irish League
Report by seanbon90@hotmail.com, Newry


On a night when Man. United were playing on the box, about 100 people turned up at the Showgrounds to watch, what materialised to be quite a dull game. It marked though, Lee Anderson's first goal for the Town - what a tremendous signing Lee has proved to be. In a rather uneventfull first half the only positive aspects of the Newry play were some timely interceptions by Gavin Dykes - another inspired signing by Alfie Wylie - and some impressive safe handling by in form keeper Davy O'Hare. The second half was characterised by some intense Omagh pressure but, when Newry got a free kick thirty yards from the right of the Omagh goal, Graham Doyle whipped in a superb cross which was firmly met by the head of Lee Anderson, giving the Omagh keeper no chance. Shortly afterwards Doyle struck another terrific free kick which scraped the Omagh crossbar. For the remainder of the half Omagh pressed incessantly, trying to find the elusive equaliser, but a mixture of solid defending and a little luck meant that Newry held out until the whistle. The only other entertaining aspect of the game was when the Omagh goalkeeper deserted his goal and joined the Omagh attack when Omagh had been awarded a corner kick. Top scorer Gary Mc Phee, had a quiet game by his high standards, Jonathan Cowan made some timely interceptions but the Newry midfield missed the strength and drive of captain Robbie Casey. Man of the match on this occasion is awarded quite deservedly to goal scorer Lee Anderson. report brought to you by seanbon90@hotmail.com
Goals: Anderson

Date: 17 March 2001
Linfield 1 Newry 3
Irish League
Report by Jimmy, Newry


Newry gained their best result of the season with this shock win over the champions elect at Windsor. What a boost it is for the emerging Town team and a great reward for the hard working Alfie Wylie and his team. Of course the team has a long way to go but whatever else happens this season it is a mark of the progress made by all at the Showgrounds and (hopefully) a sign that we can look to the future with optimism. Of course that future will not include Gary McPhee and he certainly will be missed. He was right back to his very best form here with two cracking goals. The first, after a Fitzgerald run from his own half, put Newry 2 up inside half an hour after Fitzgerald himself had opened the scoring from a Dickson corner. Things might have been different had an early Linfield effort not hit the bar but that apart the home team created very little in the first half. They came more into it in the second half but the Town defence has certainly improved since the arrival of Dykes and they held firm. That is until the last minute when Morgan pulled one back. Was there still time for the last gasp sickener? Well yes, but the sickener was for the home team as McPhee wrapped things up to complete a great day for the Town. Next up its the same opposition in the league cup quarter final on Wednesday. Can the Town repeat the dose? Whatever happens then this was one to savour for Newry.
Goals: Fitzgerald, McPhee (2)

Date: 13 March 2001
Newry 2 Crusaders 0
Irish League
Report by Jimmy, Newry


Newry restarted their league campaign after the foot and mouth scare with this rearranged league game against Crusaders. The first thing we noticed was that building work on the new stand is now underway. It meant that about two thirds of the 'home end' of the Showgrounds were out of bounds. The Town crowd somehow managed to fit into the remaining space though! Following on from the unlucky last minute cup defeat to Portadown the Town could have been forgiven for feeling sorry for themselves. Instead they turned in a good display and won fairly comfortably to complete a good season against the Crues. Newry started brightly and with Casey his usual forceful presence in midfield they quickly had Crusaders on the back foot. The Town hit the bar early on but didn't have to wait long for a goal, Dean Fitzgerald fired home from the edge of the box on 15 minutes. On 33 minutes it was 2-0 and here Mark Dickson deserves credit. He nipped in behind the defence, rounded the keeper and crossed to leave Gary McPhee with a simple task to make it 2-0. Crusaders belatedly came to life and for 10 minutes before half time they put Newry under sustained pressure, forcing a number of corners. However, the new look backline of Anderson, Dykes, Doyle and Cowan held out well with O'Hare and Newry maintained their 2 goal advantage to half time. This resistance was to prove crucial as the Crues rarely threatened seriously in the 2nd half. Indeed, Newry should have extended their lead on a number of occassions. The otherwise excellent Dickson missed a simple headed chance and McPhee also went close with a header. When the elusive Dickson was tripped in the box McPhee stepped up but his weak penalty was easily saved. And so it finished with a good 2-0 win for the Town. It was a pretty good display by the Town and raises the team to a respectable midtable position. However, before we get carried away it has to be said that Crusaders looked a pretty sorry outfit. The forthcoming games against Linfield will be a whole new test for this emerging Town team.
Goals: Fitzgerald, McPhee

Date: 17 February 2001
Newry 1 Portadown 1
Irish Cup
Report by Jimmy, Newry


Newry will have to improve on their poor recent form at Shamrock Park if they are to progress to the Irish Cup quarter final after this draw. Alfie Wylie made four changes to the Town team from the midweek Mid Ulster Cup final and one of these, Gavin Dykes, was awarded the man of the match. He opened the scoring for the Town mid way through the first half after a spell of good pressure. Ports keeper Mickey Keenan was unable to command his box during a series of Newry corners and when the ball fell to Dykes he rammed it home. Gary McPhee should of done better when clean through but a Ports defender got back to deny him. As the half wore on the Ports came more into the game without creating too many clearcut chances. You felt that they would do sooner or later. Unfortunately, right on half time, they equalised, just moments have Newry missed a great chance to double their lead. Football supporters tend to see every goal their team scores as magnificent (well it is in one sense) and see how every opposition goal could of been prevented (well, it probably could). Sometimes though you have to acknowledge the quality of an opposition strike and in this case McCutcheon's goal was excellent. Indeed he looked sharp all day and along with his two fellow Scottish loan imports has turned around the season for Portadown who had been struggling badly. A short term measure but a success for the moment. This goal lifted the away team and they started the second half brightly. Davy O'Hare made two very good saves to keep the Town on level terms. As the Ports pressed Dykes came into in his own in defensive terms as he marshalled the back four well. Alfie also changed things around and put Fulton to right back. It meant that Portadown didn't really look like scoring despite having plenty of the ball. Newry had their moments at the other end and Casey shot just over after Keenan fumbled yet another ball into the box. It ended one all and it was probably a fair enough result. Newry lacked real quality going forward as the midfield didn't perform in the 2nd half. The defence did better, however, and overall the team can't be faulted for lack of effort. They'll need plenty of the same, and a bit more, in the replay for which Portadown will be warm favourites.
Goals: Dykes

Date: 13 February 2001
Newry 1 Armagh 3
Mid-Ulster Cup Final
Report by Jimmy, Newry


Where do you start? Frankly this was embarrassing. We knew to expect a tough game from an up and coming team but hopes were still high that Newry could retain the silverware won last year. How wrong could we be as the worries raised by last weeks performance at Institute were even more evident. The first half was dire. Newry appeared to be going through the motions which was interesting given that this was a cup final and our best (realistically only) chance of a trophy this season. Armagh battled hard and scored from their only effort on goal. From the look on Alfie Wylie's face at half time we could surely expect a much improved 2nd half display from the Town. Instead before we knew it it was 2-0. The goal was wonderful if you were an Armagh supporter, a joke if you weren't. Their left back, yes left back, picked up the ball around the half way line, ran, kept running, cut inside and without any hint of being tackled at any stage of his run cracked home number two. Deja vu as McCallion, Clarke and others have had the freedom to do exactly this against us this season. At least Newry got up a head of steam and only a super save from the Armagh keeper prevented an immediate response. At this stage, however, Armagh had a 2 goal lead to hold onto and marshalled by Murphy at the back they defended like demons. Three times the keeper was beaten only for a defender to head clear off the line. Then came the, almost, final indignity. Their centre forward was left one on one with a Newry defender as the ball was cleared. A little nudge in the back of the Newry man and he was clean through...on the half way line! He ran on and slipped home number three. Unbelievable and game well and truly over. Pat O'Toole cracked home a goal in the last minute but it was hardly a consolation. Even after this the Armagh left back had another run through our defence (sic) and shot narrowly wide. The only Newry man to come out of this with any credit was Robbie Casey and that was because he was on the terrace having been suspended from the game. Without him we had no leader on the field. With Portadown and Linfield to come in the two remaining cups the season is in danger of coming to a swift and sorry end. Surely we can expect a better showing on Saturday against the Ports with Casey and Dykes available to show a bit of fight. The supporters certainly deserve at least that but your correspondents optimism of recent weeks has been well and truly shattered after this display.
Goals: O'Toole

Date: 6 February 2001
Institute 2 Newry 2 (Newry win 3-1 on penalties)
Coca-Cola League Cup
Report by Jimmy, Newry


Newry made their way through to the last eight of the league cup... just. I've been pretty optimistic about the Town's performances in recent weeks but in all honesty this was pretty poor. It took a back heeled effort from Gary McPhee two minutes from the end of extra time to force the penalty shoot out which Newry ultimately won by 3-1. It all started brightly for the Town and a number of very scoreable chances were passed up. Then the home side went one up on the half hour. Mark Dickson brought a good save from the Institute goalkeeper just before half time but as the game wore on it looked increasingly unlikely that an equaliser would come. It wasn't that Institute were outstanding, although they did battle hard, it was just that Newry created very little, didn't pass particularly well and seemed to rely on the long ball down the middle even more than normal. Then 10 minutes from time Trevor McMullan headed an equaliser and we assumed that Newry would go on and win. Institute held on for extra time and within a couple of minutes of the first period had retaken the lead with a penalty. The challenge from Dykes seemed to be quite far out but I honestly couldn't see the markings on the sodden pitch. The goal seemed to give Institute a new burst of confidence and in the space of a couple of minutes they missed two simple chances to put the game beyond doubt. They would live to regret these as McPhee saved the day late on. So to penalties. The first Institute taker hit his wide and Davy O'Hare made two excllent stops. It meant that strikes from McMullan, McPhee and Hennessy were enough to see the Town through to the next round. So Newry didn't play well but won which makes a change from playing wel and losing which has happened enough times in the past. With this thought in mind we'll gladly take the win; when we thaw out. Anyone else who was there last night will know exactly what I mean!
Goals: McMullan, McPhee

Date: 3 February 2001
Newry 0 Coleraine 0
Irish League
Report by Jimmy, Newry


Newry maintained their recent unbeaten run with this draw against Coleraine. The scoreless draw with Glentoran on New Year's Day was a bore but in contrast this was quite an exciting game. Newry could and should have taken all three points from a game which they dominated for long periods. To their credit Coleraine defended in numbers and worked hard. They also had a bit of luck when the referee missed a couple of very strong penalty shouts for the Town. The first half saw the visitors start brightly but the Town soon took over and created good chances. Unfortunately none of these were taken. The second half followed a similar pattern with almost constant Town attacking. Coleraine, however, kept things interesting with a couple of dangerous breaks as the half wore on. The Town pressure reached a crescendo in the last 10 minutes and it seemed that a goal surely had to come. With three minutes remaining Trevor McMullan was hauled down in the box. Penalty? The referee did nothing and a rather confused looking linesman declined to raise his flag. So 0-0 it ended with a mixture of satisfaction at Newry's good form continuing and disappointment that they couldn't snatch the win their play deserved. Captain Robert Casey was again the driving force and at the back new signing Gavin Dykes had a very promising debut.

Date: 31 January 2001
Omagh 2 Newry Town 3
Irish League
Report by Jimmy, Newry
Newry continued their recent run of good form with an amazing win in this rearranged league game. When is the last time the Town came from 2 down to win? I'll leave you to ponder that. Newry started brightly and Fitzgerald hit the post early on. They continued to press forward before Omagh took the lead around the half hour mark. The dangerous Curran cut inside the defence and fired home. For a five minute period the wheels really came off for Newry as Patten made it 2 and also hit the post. Game over? Well, not quite. Newry consolidated and got back on top but by half time it was still 0-2. The last time Newry came to Omagh they recovered from a similar position to snatch a draw. Surely lightening couldn't stike twice? A headed goal from Mark Dickson early in the second half suggested that it just might. And the route to doing so was obvious, the Omagh defence couldn't handle crosses into the box. Actually, despite continuing to have plenty of the ball Newry didn't look like scoring for a long period. Then enter sub Hennessy to nod home another O'Toole corner with 10 minutes left. Settle for the draw? Are you having a laugh? Another O'Toole ball into the box and a third headed goal, this time from Robert Casey, secured an incredible win for the Town. In one fell swoop he showed why he should never be out taking corners himself and, hopefully, pushed Newry well on their way out of the relegation zone. Suitable reward for the loyal band of Town supporters who made the trip.


Goals: Dickson, Hennessy, Casey

Date: 27 January 2001
Ballymena 0 Newry Town 1
Irish League
Report by Jimmy, Newry
Newry edged a little further away from the bottom of the table with this crucial win. In a hardfought game it was ultimately an own goal which shaded it for the Town. However, Newry were well worth their win against a poor looking Ballymena outfit. This certainly wasn't the type of match that will bring the spectators flooding back to Irish league games but for diehard supporters it was compelling stuff. The first half was pretty much a non event but Newry looked secure and restricted the home side to no clear chances. Mark Rutherford will be a loss for his attacking play but the midfield four of Casey, Fitzgerald, O'Toole and Fulton had a solid look to them. The second half was more open and early on Ballymena brought a good diving save out of Davy O'Hare. From then on Newry always looked more likely. The lively Mark Dickson stretched the home defence well and could and should have got the goal that his allround display deserved. As it turned out it was his cross that was turned home by a Ballymena defender under pressure from the in running Gary McPhee. McPhee himself had a great chance to make it 2 but Dalton saved. Towards the end sub Parkinson had the ball in the net but was ruled offside. One goal was enough and a good week for the Town had ended on a highnote.


Goal: Culbertson (o.g.)

Date: 23 January 2001
Limavady 2 Newry Town 5
Irish Cup
Report by Jimmy, Newry
Newry negotiated a potentially tricky cup tie with ease as they crushed Limavady in this rearranged tie. In difficult conditions with wind, rain and a heavy pitch the result was never in doubt after Gary McPhee rifled Newry ahead in the first couple of minutes. Better defences than Limavady's have struggled to contain McPhee this season and before half-time he had completed his hat-trick. His tally for the season is now seventeen in nineteen games. Newry were in total control and despite giving away a slack goal in the second half normal service was resumed when Dean Fitzgerald, with his 10th of the season, and Mark Dickson knocked in two more. All in all a very satisfying result witnessed by a surprisingly large number of Newry supporters who made the long trek. The team bus actually got lost on the way to the ground, which necessitated a delayed kick off, but that was the only wrong turn on a good night for the Town.


Goals: McPhee 3, Fitzgerald, Dickson

Date: 13 January 2001
Newry Town 2 Cliftonville 1
Irish League - Premier Division
Report by Jimmy, Newry
Newry got back to winning ways with a crucial win over Cliftonville. With the resurgent Portadown and Ballymena picking up points Newry had to get something out of the game, and they did. The first half was largely uneventful but at least the Town hadn't conceded and weren't left chasing the game. The second half started with a bang. First Gareth Fulton cracked home his first goal for Newry and minutes later a superb Dean Fitzgerald header from a McGeough cross made it 2. There were still 40 minutes left at this stage and the Reds pushed forward. Their only score was a McCallion penalty and Newry held out to delight an increasingly nervous crowd. It wasn't a vintage performance but the team battled hard and just about deserved their win. Praise must go to keeper Davy O'Hare. He's come in for a lot of criticism after some bad errors and he appeared to have lost confidence. However, on Saturday he pulled off a couple of top class saves to preserve the win. I was lucky enough to miss last weeks debacle at Portadown but by all accounts only his keeping kept the score the down there. Let's hope the good form continues. The other player of note is Mark Rutherford. He hasn't been playing well recently and now that, as seems likely, he's leaving us we get a super cameo performance to remind us how good he can be. For those that remain there'll be a few more tense battles to come between now and the end of the season.


Goals: Fulton, Fitzgerald

Date: 1 January 2001
Newry Town 0 Glentoran 0
Irish League - Premier Division
Report by Jimmy, Newry
The first scoreless draw in quite a while at the Showgrounds brought Newry's truncated Christmas campaign to an end. This was a disappointing game played in difficult conditions with little to get too excited about. However, given that Newry's previous game was the 1-4 disaster against Glenavon, and also Glentoran's excellent recent record at Newry, it was a well earned point for the Town. Against Glenavon hopes were high for a good result but Newry were torn apart. Four nil down after an hour there weren't too many of us left to witness Gary McPhee's last minute strike. After that debacle you couldn't of been too confident about facing the other Glens. To their credit Newry defended much better and battled hard for their point. There was little goalmouth action and Newry's best chances came early on. Perhaps the absent McPhee might have taken one of them, but we can't rely on him in every match. The only real point of discussion in the match was the performance of referee Herbie Barr. Regular readers (all two of you) will remember my criticism of his performance in our recent game at Coleraine where it was open season on kicking lumps out of Newry players. Barr was at it again here, amazingly booking two Newry players in a couple of minutes when in fact the Glentoran number 8 (Lockhart I think) was solely responsible for some particularly snidey and provacative 'challenges'. In fact no Glentoran player was booked despite a number of heavy and late tackles and the predictable result was that Barr lost control of the match for a time. Okay, it's a tough job being a referee etc. etc., and the standard in the Irish League is dreadful (step forward Mr Snoddy) but Barr appears to be plumbing new depths.

Date: 9 December 2000
Coleraine 2 Newry Town 1
Irish League - Premier Division
Report by Jimmy, Newry

A home game for Coleraine, who are lying second in the league and have just thrashed Linfield 3-0 at Windsor, against Newry who are in the relegation zone: easy three points? Well, no actually. In fact after the match Marty Quinn was honest enough to admit that Newry deserved at least a draw from this match. It's of little consolation as another game is narrowly lost. However, the bright side is that Newry are coming together as a nice side and I'll be amazed if they end this season relegated. Indeed, if this game showed anything it's just how little there is between most teams in this league. This was an exciting game and Newry dominated possession for long periods. It was easy to see why Coleraine's away record is so good as they defended in depth and attacked at speed with their two pacey wingers. In fact they played like the away team. Mr Barr didn't help matters by letting an increasing number of heavy Coleraine tackles go unpunished. Newry had the better of the first half and McPhee was particularly sharp. However it was Coleraine who struck first, against the run of play, with a Tolan header from a long throw. In the 2nd half Newry continued to press. Delaney really came into the game but missed two great chances: he crashed one against the bar from about 4 yards. Soon enough a magnificent Coleraine break and it was 2-0. Newry didn't give up and were rewarded with another Dean Fitzgerald goal. But that was it and it finished 2-1. We were left with a mixture of satisfaction at the performance but disappointment with the result. For Newry, Robbie Casey was again outstanding and he and Fitzgerald controlled the midfield for long spells. Young David McGeough also had a storming game at the back. Next up its Crusaders away and you don't need telling how important that one is.
Goals: Fitzgerald

Date: 2 December 2000
Newry Town 5 Ballymena Utd 2
Irish League - Premier Division
Report by Jimmy, Newry

How often are you stood in the Showgrounds, against premier opposition, with half an hour left and Newry have comfortably got the game won? Exactly. Well, Saturday was one of the days and how satisfying it was to hear a Newry supporter claim that it wasn't as exciting as the Ports win because it was too easy. Were Newry that good or Ballymena that bad? Probably a bit of both. Newry's defending left much to be desired yet again. Despite dominating they conceded two and it's getting increasingly difficult to watch a corner against us so often do we see a goal conceded as our statuesque defence stand and watch. It happened again on Saturday to let Ballymena back into the game by half time. Indeed all I could think of was the corresponding match last season when we were 2-0 up, missed a penalty and drew 2-2 against the same opposition. Thankfully this was no repeat. As much as anything this was due to Gary McPhee. He takes the chances we normally miss and makes enough of his own too. Its eleven goals in 13 games now and he's turned the season around. He opened the scoring with a carbon copy of his recent goal v the Ports, running on to a Fitzgerald pass to dispatch to the net. 1-0. Another McPhee shot was spilled by Spackman and Mark Rutherford stabbed home for 2-0. Newry missed further chances before the late header made it 2-1. Into the 2nd half and McPhee, again from Fitzgerald, made it 3-1. We could breath easily. Minutes later it was 4, Rutherford hammering a Morgan cross home for 4-1. Ballymena pulled back a slack goal to 4-2 but fittingly Newry had the last word with a Fitzgerald strike completing the rout. McPhee was the star man yet again but was ably assisted by the outstanding Robbie Casey and Seamus Kane. Newry left the field to an ovation, standing obviously, while poor old Nigel Best didn't seem quite so popular with the small band of Ballymena supporters. All in all a great win, the only pity being that so few bothered to come along and see it. It won't be so easy with Glenavon, Linfield and Glentoran to come but this team certainly deserves our support.
Goals: McPhee 2, Rutherford 2, Fitzgerald

Format for Match Reports

Date: 25/12/03
Newry Town 13 Glentoran 1
Irish League - Premier Division
Report by A.N. Other

It was a tough match for the visitors as the scoreline suggests.
Goals: Davy O'Hare (7), Seamus Kane (5), Gary McPhee
Teams: T. Bhouys
www.newrytown.co.uk