UEFA Intertoto Cup
Newry Town have triumphed in Europe being the first Irish League team to ever win an Intertoto match.
When Newry were able to achieve 4th position in the league and the top three teams had previously secured this seasons Europian competition entries Newry Town entered the Intertoto Cup. Excitement was in the air as Joe Rice - Chairman of Newry Town F.C. had fulfilled his promise of making it to Europe within three years.
When the draw took place it decided that we were to play Croat team Hrvatski Dragovaljac. They were formed in 1995 and finished fourth in the Croatian league. Their team consisted of five internationals and also the best goalkeeper in the Croatian League. Shane Reddish was loaned to help the town with their Europian matches as he has experience in Europian football after playing with Middlesbrough. Newry travelled to Croatia
and after a 1-0 defeat in Zagreb by the Croatian team the hopes of Europian victory in Newry were still alive. The Newry players' determination was made stronger when a regional newspaper reported that chairman Joe Rice may be considering his position in the club. This did not affect the crowds as can be seen below a large crowd attended.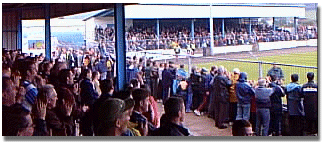 And the volume of the crowd was a great boost to the team who needed all of the support they could get.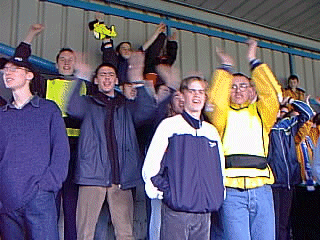 In the opening minutes a splendid overhead kick by Dessie Gorman narrowly skimmed past the post giving the Croatian side a flavour of the N.T.F.C. ability. Shortly after that, local lad Robbie Casey

headed in a terrific header to bring Newry to a draw and to make the crowd go wild!!
This did not deterre the strong Croatian team however as they battled on with remarkable skill. Newry have keeper Kevin McKeown to thank for keeping them in the match as he pulled of some magnificent saves.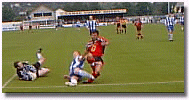 Dessie Gorman was taken off mid way through the second half and went in for an early shower.


This prooved to be an excellent descision as his substitute Adrian Larkin, just one minute after coming on, finished a John Kenney cross with one touch which left the 'best keeper in the Croatian league' stranded!!

A short time later Newry were almost 3-0 up when a free kick by Newry taken by Robbie Casey sailed narrowly past the post.






The final whistle blew and after a minor pitch invasion

the Croatian team Hrvatski Dragovljac left the pitch in bitter disappointment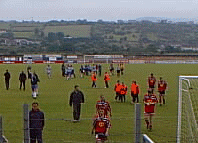 and left the Showgrounds to get changed back at the Mourne Country Hotel. Afterwards Chairman Joe Rice descided to remain at the Showgrounds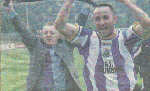 as chairman after the previous day's news reports stating that he was considering resignation.
Will the final page of Newry's Europian experience be written on Sunday the4rd of July or will Newry defeat German side Duisburg?